Turf and Surf – On Amazon Books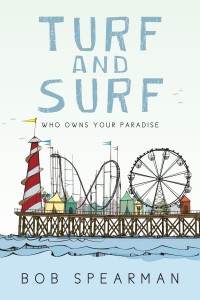 An idyllic tourist town finds itself home to a dangerous turf war in Bob Spearman's riveting debut novel, Turf and Surf.
Myrtle Beach, South Carolina has long been a favorite tourist destination, but beneath the sunny exterior lies a dark power struggle in which locals, summer workers, tourists, and drug dealing gangsters fight for control.
Among them is Bo Jr. whose run-in at a mob-owned bar turns him into a hit-man-in-training. Best friends, Edna and Evelyn, navigate the perilous world of romance as one falls for a police officer—the other, for a mobster.
With a new drug gang riding into town, a serial kidnapper tying up summer workers, and a corrupt police force that looks the other way, tensions come to an explosive climax in this fun new read that will leave readers guessing until the last page.
"Grittier than the sand itself, Bob Spearman's debut crime novel proves Myrtle Beach is not all fun and games.  As sure as the tide is rolling in, trouble is brewing in this action-packed crime thriller."
Cindy Blackburn, author of The Cue Ball Mysteries series
Hard Road – On Amazon Books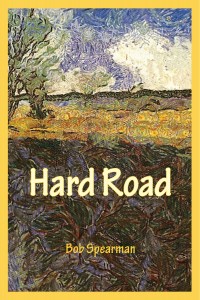 You choose suicide, but fail. The man who almost killed you commits to be your savior; but first he must overcome his own demons. It's a Hard Road, but love may find a way.
Laurel struggles through the pressures of a bad marriage, the death of her child, and life on the street. Hank endures a difficult job with a horrible boss and a corrupt parole officer, who together force him to work as a truck-driving courier for their illegal drug business. Beset with this trauma, he strives to help Laurel survive through her recovery from attempted suicide and after her bout with a psychotic episode.
Set in the lowcountry of South Carolina and on the streets of old Charleston, Hank and Laurel share the secrets of their painful pasts. But even with their fortuitous new love, persistence, and good hearts, will they be able to survive?
Bob Spearman's compelling new thriller explores the complexities of mental illness, and the challenges to gain a more compassionate understanding. Love and family can shine the light of hope. Will they find the way?
Shrimpin' Gold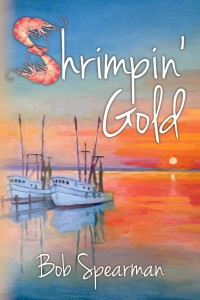 Harlin Dodd faces the demise of the family shrimping business that was started by his grandfather. Just as the financial dilemmas seem insurmountable, their shrimp nets bring up a treasure chest filled with gold. With this prize, their troubles really begin. A vicious band of pirates return for their lost gold and Harlin must make life or death decisions to save his family. Storms, pirates, and ghostly illusions, all set in historical Charleston, make the shrimpers' struggle an exciting Lowcountry tale.
Author Bob Spearman delivers a clever suspenseful story filled with a rich cast of characters, spiced with pirates, sunken treasure and the ghosts of historic Charleston, SC.  Five enthusiastic stars!
Nancy Straight, Bestselling Author of Blood Debt
Bob Spearman's third novel conjures up a tale of survival, with a whiff of Lowcountry spice, a bit of gold, and a dramatic ending you won't see coming.
Cindy Blackburn, Author of The Cue Ball Mysteries